The "proven design, development & consulting partner in Berlin" has been one more time confirmed. In addition to all our happy clients, marketing and search engine achievements, Digital Agency Network (DAN) has placed Mobiteam website design as one of the best in 2019.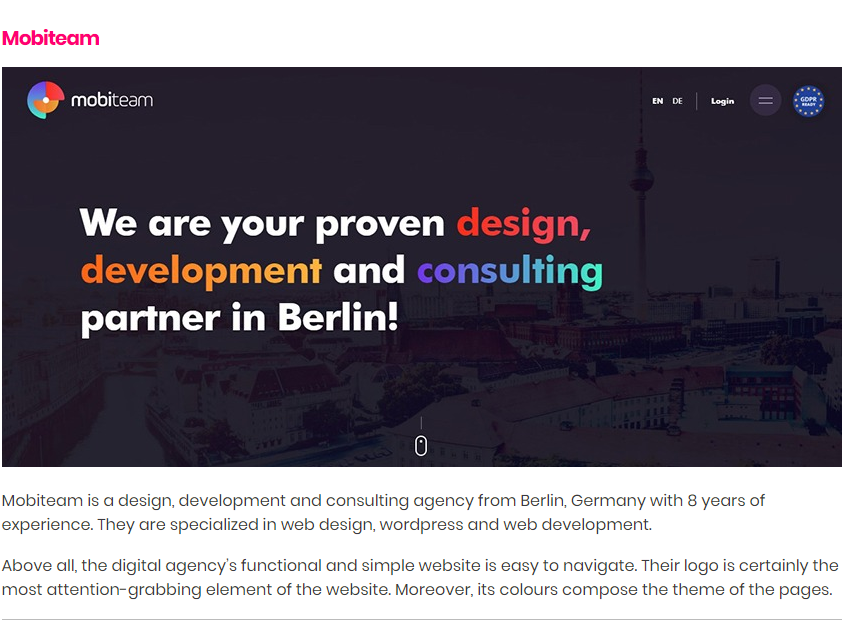 To create a premium web design at Mobiteam is a very customized process, and depends on every single business specification. But what more important is, the result. It assures a Top online image, and it makes your business look solid and always trendy.
The same rule applies to us, and from color range to logo and smart positioning of identity elements, make our website design look top-notch and worthy of knowledge. It is also our priority to progress and develop our design, development and marketing features on our website so we can provide a user experience over general expectations.
For these reasons, we were the exclusive choice of over 65+ happy clients in web design we worked and continue to work with. Happy clients and partners that recommend us in the frame of making on their turn partners & friends satisfied with web design, development, and marketing services we provide for over 8 years in Germany and all over the world are what we call a successful partnership based on trust, results and mutual understanding.
Digital Agency Network is a UK based company that gives others the opportunity to explore exclusively award-winning web agencies across the globe, and we are proud to be featured with our web design and as well as a TOP web agency in Europe, especially in Germany on DAN