As one of the world's leading economies, Germany has been exposed to a series of changes, reforms, and events in the last 5 years. On their turn, these influenced directly the German economy, and thus, the online presence of businesses from different industries. We are talking about migration, demographic aging, internal political events, social policies, and many more key factors, up to the latest Brexit event that had a huge impact on the entire European Union, but as well to Germany particularly.  How all these affected, influences and will continue to play an important role in the web market – is what we are going to reveal in this article. 
#1 Web Pages and Industries
Since 2015, a lot has changed on what web pages really are and who do they represent. Taking into consideration that competition always generated evolved versions in terms of design, functionalities, and concept, each industry has its leaders on the web presence. However, the tables may soon turn and take a new course. 
Overall, the trend among industries that have their businesses online represents a short but solid growth, and reaching its peak in 2018, it started to stabilize at an average of 66% in 2019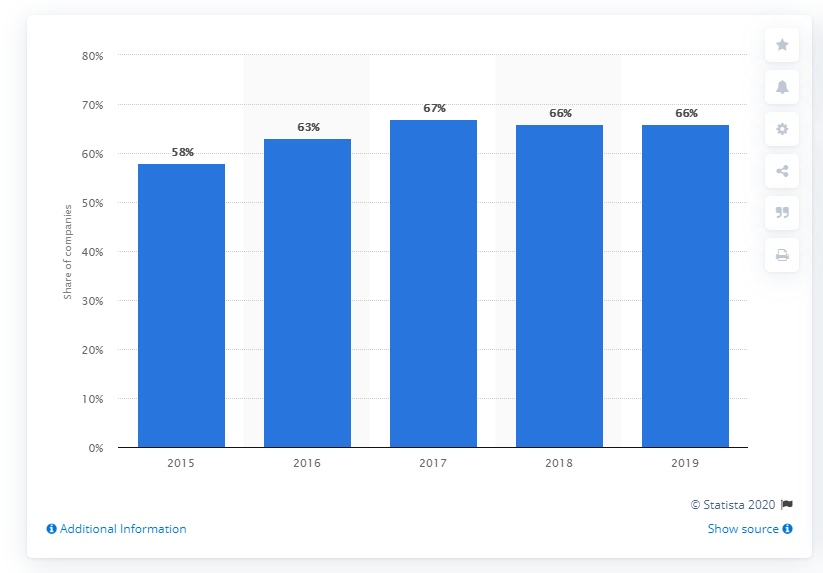 But what follows after 2020 is not so difficult to predict. The latest political event that stunned entire Europe – Brexit, will create a huge wave of requests for business resettlement, which will probably migrate to other EU countries, including Germany in the hope of finding a stable and promising market. 
Based on this, we can certainly say that the growth of online businesses in Germany will speed up, stimulating competition, prices and at the same time tech development of the entire web industry not only here, but worldwide. 
Moreover, a lot of foreign and British companies announced their intention to move to Germany after Brexit, but until then, only in 2018, some 168 British companies had made Germany their home — or at least resettle part of their operations, according to GTAI(German Trade and Investment Agency). 
#2 Ecommerce in Germany
As more than 90% of the German population are internet users – it is obvious that eCommerce holds a big share of the entire German web market. And this means that most of the online businesses are focused on providing products and services based on eCommerce platforms rather than creating other types of websites that wouldn't allow them to sell and promote directly their goods. 
A good reason behind this is that the German market is a consumer-oriented one, and there is a big request for products and services related to eCommerce. However, the biggest and most popular eCommerce is not a german-based company, and it continues to be Amazon, which leads us to another deduction: Germans are one of Europe's largest cross-border online consumers. But at the same time, they keep their internal market safe and productive with other large eCommerce coming on the second and third positions as the biggest one on the interior web market.
We are talking about Otto and Zalando – the biggest local eCommerce giants that are trying to hold back the balance and retain the money within the internal borders. But besides them, the entire eCommerce market continues to grow due to the new businesses that are continuously extending their coverage on the web.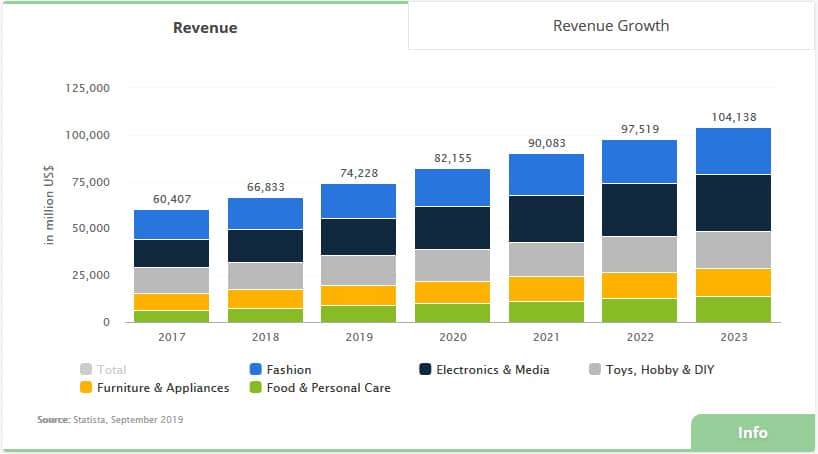 Apart from this, there are some key factors that we should take into consideration when we talk about eCommerce in Germany:
The average conversion rate in Germany is 2.2% – above the global average

40% of all eCommerce transactions in Germany are done via mobile devices

The average value of an order done by a german consumer is of 138 Euros

The most popular payment method is PayPal
Taking this into consideration, the future of German eCommerce looks bright, and the trend reveals that the eCommerce share of the total online market will continue to grow for at least another 5 years. 
#3 Risks, Benefits 
Like all other growth processes, this one is also accompanied by risks and benefits. The overwhelming number of online stores in Germany happens to be a good thing, as long as there is a balance on the market from multiple points of view. But the demographic aging and new businesses that come out from nowhere expose the balance to a series of risks that could lead to an implosion making the web market insecure. 
Alongside the risk of changing the balance towards agglomeration, the web businesses tend to produce more than the market can consume, and at some point, the export of goods and services via online businesses may lead also to re-establishment of german-based companies outside of Germany, and even the EU. 
The good side is that out of this thriving competition of conquering new markets, delivering better and cheaper products and services, the end-user is the big winner anywhere this competition is visible. This is what keeps happening for several years now, but since the market can consume more than online businesses produce – the effect is estimated around 10% of what could really be. By this, we mean that we are getting products and services 10% faster, 10% cheaper and 10% better than we would normally get. 
As we mentioned earlier in this article, in the short run, the web German market will continue to grow, increasing the number of products and services, as well as their types. But if we look further, after some 5 years it is most likely that the quality of online business could grow more than the quantity by implementing new-generation solutions on a larger scale. 
Using AI, AR & VR in online businesses will help the user take a faster and better decision towards their acquisition – a thing that was already proved by several world business giants.
#4 Conclusions
Based on all the facts, statistics and opinions that there are now towards the German web market, we think that there are several conclusions we must have: 
The German web market will continue to grow

More existing companies will continue to acquire online visibility

The number of online businesses expanding to the German market will grow

The growing competition will stimulate the quality of products and services provided online

AI, AR & VR experiences will be the next trend on the web in the upcoming years
Apart from this, it is important to highlight that the request for B2B web tools and services, such as web design, web development, content, and marketing will grow as well. This means that new and better websites and eCommerce will always be at high request, at least here in Germany. 
Based on this, we strongly recommend requiring a quote from Berlin's Top Web Design and Web Development Agency – Mobiteam, and start working today on how your business will look tomorrow.