SEO is crucial for your company to get a decent appearance on the results page. Keywords play a big part in SEO performance. However, to find a decent keyword, one must look at both volume and difficulty. Is there a perfect sweet spot between these two factors?

Study shows that 93% of online journeys start with a search engine. Therefore, having a well-devised search engine marketing strategy helps guide potential customers towards your direction.
Giving a quick recap, keywords help search engine crawlers determine what your web page is about. When a user types in a keyword, the search engine includes the webpage into the user's search engine results page (SERP). Hence why proper keywords are critical towards SEO.
There are two main factors to keywords: 
Keyword Volume – total number of searches in a search engine per month 

The keyword difficulty, metric used to determine the difficulty of ranking high with a specific keyword
The higher the volume, the higher the difficulty to appear in the top 10 SERP.
Doing the keyword research, one has to ask himself the question ''Are we able to rank high enough for this keyword to gain any of the search volumes?''. 
You want to gain enough traffic towards your website. Therefore, your keyword must have enough volume. However, if the difficulty is too high, you will not see the correct results. Is there a sweet spot between volume and difficulty and if so, what is the sweet spot? To answer this question, we first have to take a look at the factors that determine the quality of the keywords.
Keyword difficulty explained for beginners
The keyword difficulty, as mentioned before, determines the difficulty of ranking high on the SERPs. It gives an indication from 1-100%, and shows how difficult it is to seize the position from one of your competitors in the top 100. The higher this percentage is for your keyword, the more difficult it is. There are four categories in which you can divide the keyword difficulty. 
Above 80%: For new websites, it makes no sense to go for these keywords. These are the most difficult keywords. You need a lot of backlinks and invest a lot in SEO to gain a position in the top 20.

60-79%: These keywords have an average difficulty. It is still difficult to enter the top 20 of Google's results. However, if your website has good quality content and relevant backlinks, it is possible over time to outrank the competition.

40-59%: These keywords have the potential to gain a high rank on the SERP. When you start, these keywords have good potential.

Under 40%: It is easy to rank high with the use of these keywords. However, the search volume is going to below. It is likely that the keywords are too specific or niche.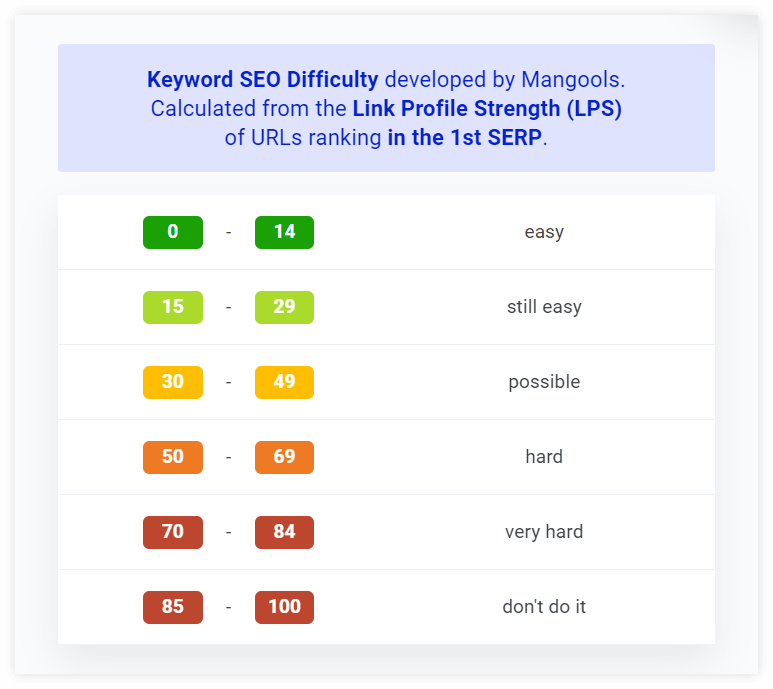 There are multiple tools that help determine the difficulty of a specific keyword. Ahrefs is a free, easy to use, web utility. Furthermore, Google has its own program as well to help you analyze the desired keyword.

Thus far, we can conclude that the optimal range for the keyword difficulty is between 40- and 59 percent. However, what kind of volume can we expect from this?
Keyword volume explained for beginners
Keyword volume indicates the amount of searches per month is made on a keyword. It is a crucial part of a keyword. If your keyword has no volume, no one will look up your keyword and find your content. If a keyword has too much volume, there will be the extremely high competition you have to compete with. Is there an optimal volume for a keyword then? The easiest answer to the question ''What is the optimal keyword volume?'' is between 100-1000 searches per month. However, as mentioned before, there are lots of different factors that influence the results.
The volume is influenced by the industry you work in

The size of your website factors in the results
Balancing low- to medium-volume keywords allows you to compete in the SERPs by using more focused keywords. There are multiple tools that help you determine the traffic of your keyword. One example is Google Trends. A clear overview is given on the number of searches, even per region.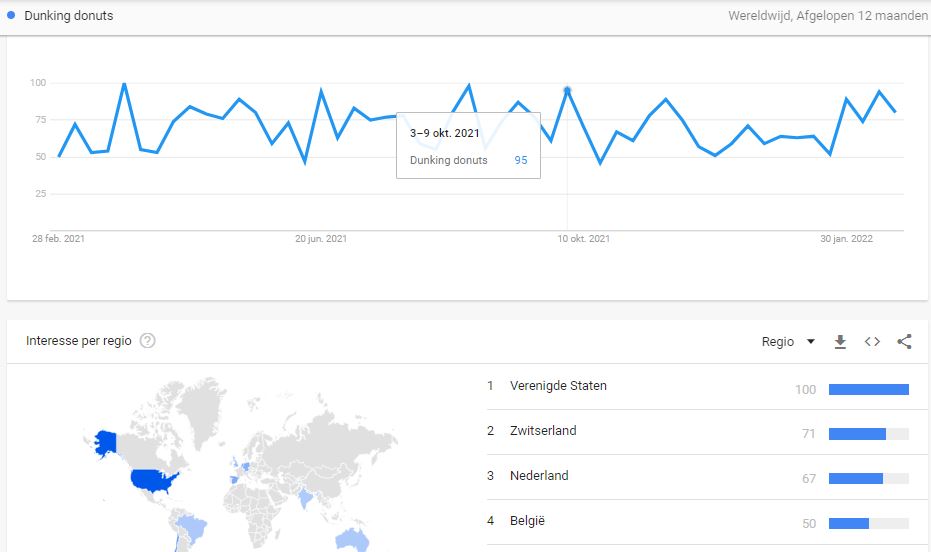 It has to be mentioned that keyword volume can be sorted into two categories:
Seasonal

: Seasonal keywords are searched for during specific times of the year.

Evergreen

: Evergreen keywords are searched for regularly. 

(Evergreen keywords)

(seasonal keywords)
Domain authority is one of the factors that, if high enough, creates possibilities to aim for higher volumes. More about this can be read below.
To summarise, the optimal volume of a keyword is between 100 to 1000 searches per month. However, there are a lot of factors that play a role in the attainable keyword volume. Domain authority plays a major part in this.
Domain authority explained for beginners
Domain authority is a metric used to determine the likelihood of your website ranking high in the SERP, based on how your website is perceived. The domain authority is based on multiple factors. The total number of backlinks and engaging content influences the score. There are multiple tools that help you calculate your score on a scale from 1 to 100. Moz is the original developer of this metric and has a tool that calculates how high your domain scores are. There is a free trial available for this tool on their website. Furthermore, Semrush offers a paid tool as well. The higher the domain authority, the stronger your website is. This creates advantages over your competition if your domain authority is higher than the competitor. This could give the potential to aim for higher volume and difficulty in the keywords since your website is strong.
Final Words
To conclude, a keyword difficulty of 59% or less combined with a volume of 100-1000 searches per month is optimal for starting businesses. However, it is possible in time to aim for keywords with higher volume and difficulty. With an increment in traffic towards your site, combined with higher domain authority, you could aim for higher difficulties and volume in time. To conclude, there is no set sweet spot between volume and difficulty. There are multiple factors that play a role when looking for keywords that vary per domain.