When store migration is on the horizon, e-merchants start looking for the ways and tools to perform the job. After a quick Google search, they usually discover Cart2Cart as one of the most used and talked about ways to switch eCommerce platforms.
With the boom of online buying and selling practices, switching across various shopping carts has stopped being something of an ordeal. With Cart2Cart, the whole process becomes easier, faster, and accessible for everyone making it widely used among e-merchants worldwide. But is the game worth the candle?
What Is Cart2Cart?
Cart2Cart is an innovative automated migration service that simplifies the store migration process to a few easy-to-do steps. Having performed 150,000+ migrations across 85 shopping platforms, Cart2Cart is now considered to be one of the most advanced performers when it comes to eCommerce migration.
What Problems Does Cart2Cart Solve?
Switching to another eCommerce platform
With so many shopping carts available on the web, eCommerce migration is now a standard business procedure among online entrepreneurs. There are many reasons for leaving one shopping cart in favor of another, but generally, e-merchants migrate due to financial, technological, or marketing purposes. Сart2Cart is the tool that moves store data from one platform to another in a matter of hours after a quick setup.
Upgrading shopping cart to the most recent version
Keeping your eCommerce platform up-to-date is critical to ensure that it's not left behind with a chunk of unsupported code. Besides, eCommerce sites running old versions are insecure and vulnerable to malicious attacks and also obsolete in style and functionality. For example, if you need to upgrade Magento 1 to Magento 2 (which actually means a migration), but have no strong coding skills, Cart2Cart will come in handy.
Customized all-in-one eCommerce data migration
For customers who don't have time to handle the data migration on their own, or have custom migration needs, there are all-in-one service packages available. Based on the volume of data to migrate and the scope of customizations to perform, there are 4 packages to choose from. It's best to schedule a consultation with Cart2Cart experts to outline the migration requirements and discuss the roadmap.
Invisible tool for Database Migration
Developer agencies or freelancers can utilize Cart2Cart as an excellent tool for database transfer when handling customers' requests for eCommerce migrations. They get a solid competitive advantage by delivering results to their clients much faster than their competitors do.
The needs mentioned above have caused an e-commerce software company called MagneticOne to introduce Cart2Cart in 2009. And during its 11+ years on the market, the service has been used by over 150,000 online entrepreneurs worldwide to perform shopping cart data migration without the help of a developer
Cart2Cart. The Pros & Cons
Performing eCommerce migration via an automatic tool doesn't require a lot of time and effort, offering many benefits instead:
It is user-friendly. Cart2Cart Migration Wizard has been specifically designed to make things simple. Therefore, even users with little to no skills can quickly get comfortable with it.
It means zero downtime. In Cart2Cart, the store database transfer is performed without interfering with your running e-store. Consequently, you can proceed with your business operations (serve your customers, process orders, and facilitate transactions) throughout the entire migration procedure
The free test migration is available. Before launching a Full migration, Cart2Cart allows you to preview how your current store data will look like on a new platform. What's more, the whole thing doesn't cost a dime and the setup takes minutes via the intuitive migration Wizard.
It is fully automated. The whole process of importing store entities to a new platform is conducted without any human control. You just need to specify your current store platform and the one you're migrating to and connect the stores.
It is reasonably priced. Since the final migration cost depends on the number of entities that need to be transferred and additional migration options, the Cart2Cart pricing is very flexible and starts from only $29.
It offers free migration to its own test store. It allows trying the migration even without a Target store installed (convenient if you are hesitating which new platform to choose) and see how your products, customers, orders, etc. are going to look like on a new platform.
Despite all the advantages associated with the service, there are still some limitations that e-merchants should consider when going with Cart2Cart. They are as follows:
The process of setting up a connection between self-hosted platforms maybe not very intuitive for novices. However, with plenty of detailed tutorials, guides, and videos even the greenest of minds usually go through the migration wizard successfully. Plus, 24/7 live support is available for every step of the migration process.
Unfortunately, the design and 3rd-party apps migration are impossible using an automated tool. Though, Cart2Cart customers can either use new themes and templates or recreate the original store appearance with the help of a developer.
Cart2Cart's Migration Preview is available only for some of the shopping carts. However, those platforms are the most popular ones which allow e-merchants to test the store on various shopping carts before choosing the right one.
How Does Cart2Cart Work?
Cart2Cart is an automated migration software that performs the transfer of store entities like products, customers, orders, etc. across various shopping carts in a fully automated manner. The only thing you have to do manually is specifying your current and new stores, and selecting the data to move and the additional migration options. In total, there are only three steps that set you apart from the new store: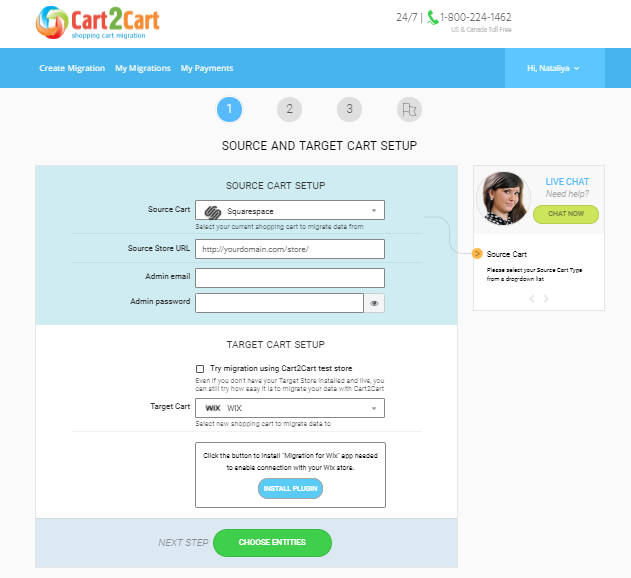 Set up the Source & Target carts
Choose the data you want to import and the additional migration options.
Run free Demo migration
How Much Does Migration with Cart2Cart Cost?
Cart2Cart is free to set up and offers two migration options:
Demo Migration (free) — transfers a limited number of store entities to your live store in under 30 minutes to demonstrate how it works.
Full Migration (paid) — allows you to perform the migration of ALL the store data to the new eCommerce platform. The minimum price of Full migration starts from $29 – if your store is not very big, it will cover it. However, if the store comprises a large amount of SKUs and other data, the migration will cost you more (depending on the amount of transferred data and the additional options you select).
Cart2Cart Support
The Cart2Cart's highly-experienced Support technicians carefully overlook all the migration operations. In case there are any troubles, you can get live help and guidance from a migration pro, 24/7.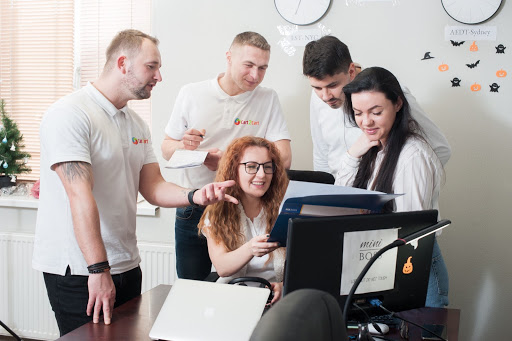 The Final Touches
Overall, Cart2Cart has proved to be an optimal go-to migration option for online entrepreneurs who want to focus on business development instead of taking care of the migration-related hassles yet would like to control the whole process and use a cost- and time-effective solution.